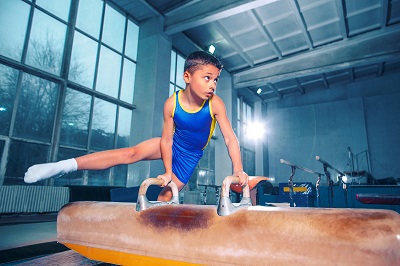 Gymnastics is one of the most competitive sports in the world. Boys and girls of all ages begin training early, often, and hard. According to the coaches at Everest Gymnastics, winning medals is not the only way to find success in the world of gymnastics. Keep reading to see what they have to say on everything from practice schedule to self-doubt.
Q: What do you consider the most important factor for success in gymnastics?
Everest Gymnastics: That really depends on what you consider success. For some, it means moving on to the elite level and beyond. For others, success is simply having fun. However, from a coach's perspective, we view the most critical aspect of success as the ability to participate – or compete – safely.
Q: It seems that safety is one of the top priorities at Everest Gymnastics. Can you explain a little about how your facility ensures that students are not injured?
Everest Gymnastics: Students and parents alike must first understand that not all injuries can be prevented. Sometimes, accidents just happen, and no amount of preparation, safety equipment, or physical conditioning can prevent that. However, we strive to reduce the number of gymnastics-related injuries to our students in a number of ways. We use only specialized equipment, always have coaches in place during class to guide students through their physical movements, and encourage our young athletes to pay attention to their bodies during class. The more mindful they are, the more likely they are to avoid getting hurt.
Q: Do students work on strength training?
Everest Gymnastics: Absolutely. Although gymnastics is a very fluid and graceful sport, it requires extreme upper and lower body strength.
Q: Once your students get into the advanced classes and begin training for competitions, what do you suggest they do to increase their chances of performing well?
Everest Gymnastics: One of the most important things a young athlete can do is come to class regularly. Many of the students at Everest Gymnastics train for 20 to 25 hours per week and focus additional hours on improving their physical condition.
Q: What are some things an athlete can do in the days leading up to the competition to give them an edge?
Everest Gymnastics: Watch your diet! It is exponentially important to avoid junk foods and things with high sugars before competing. And it has nothing to do with watching their figure. Our athletes burn a ton of calories, and they should eat a proportionate amount to compensate. However, an upset stomach is a huge distraction and can lead to slowed reaction times and irritability, both of which can ruin a performance.
Q: What are some other distractions that athletes should be aware of?
Everest Gymnastics: Self-doubt, forthcoming social events, trouble with loved ones… Anything that triggers an outburst of emotions must be put on the backburner. It's difficult, but you really have to learn how to compartmentalize inner turmoil so that you can focus 100% on the task at hand. This will not only improve performance, but being distracted is the quickest way to land in the hospital.
Everest Gymnastics is headquartered in Huntersville, North Carolina, and is one of the country's most elite gymnastics training facilities.