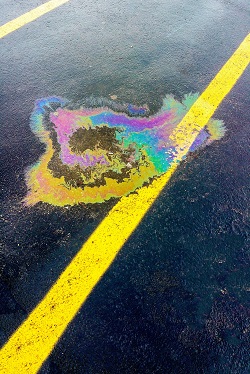 Puddles are a very common problem in parking lots. Matthew Hargrove of Hargrove Sealcoating and Striping, an asphalt patching expert in Murfreesboro, explains how puddles are formed and what can be done to fix them.
Question: Can cars parked in the same spot everyday cause puddles?
Answer: Yes, they can to a certain degree. Do you notice any ruts on the pavement? A rut is a groove caused by something heavy, like the wheels of a car. Water can pool in these ruts which creates puddles.
Puddles can also be caused by grade depressions. This means that sections of the pavement material have settled in areas lower than the surrounding pavement. You'll notice these depressions when it rains because they quickly fill with water.
Question: What causes asphalt rutting and grade depressions?
Answer: Compaction, or the process reducing the volume of asphalt material, will cause the difference between a strong pavement and a weak one. More often than not, poor compaction during the installation process is the main culprit behind rutting and grade depressions. A poorly compacted parking lot is likely to have rutting and grade depressions earlier than expected.
Other causes of asphalt rutting and grade depressions include inadequate sub-base material and an incorrect mix of pavement materials used.
Question: How would Hargrove Sealcoating and Striping fix these issues?
Answer: If the parking lot is in a relatively good condition and rutting is only caused by car tires, infrared patching can be used to repair damaged areas. A layer of seal coat would be applied to the parking spaces so that the infrared patch areas would blend in with the rest of the pavement. This step will protect the infrared areas from oxidation.
Question: How can we reduce the risk of asphalt rutting?
Answer: Asphalt rutting can be minimized with the use of quality aggregates. Quality aggregates cans determine how resistant the asphalt mix is to rutting.
Adding excess asphalt into the pavement mix makes it prone to rutting. Consult with an asphalt patching professional to get the precise measurements.
Additionally, applying a tack coat between layers of asphalt creates better adhesion and improves pavement quality.

Looking for asphalt patching in Murfreesboro? Contact Hargrove Sealcoating today. A friendly service advisor is available during working hours to answer your questions by calling 931.619.6718.